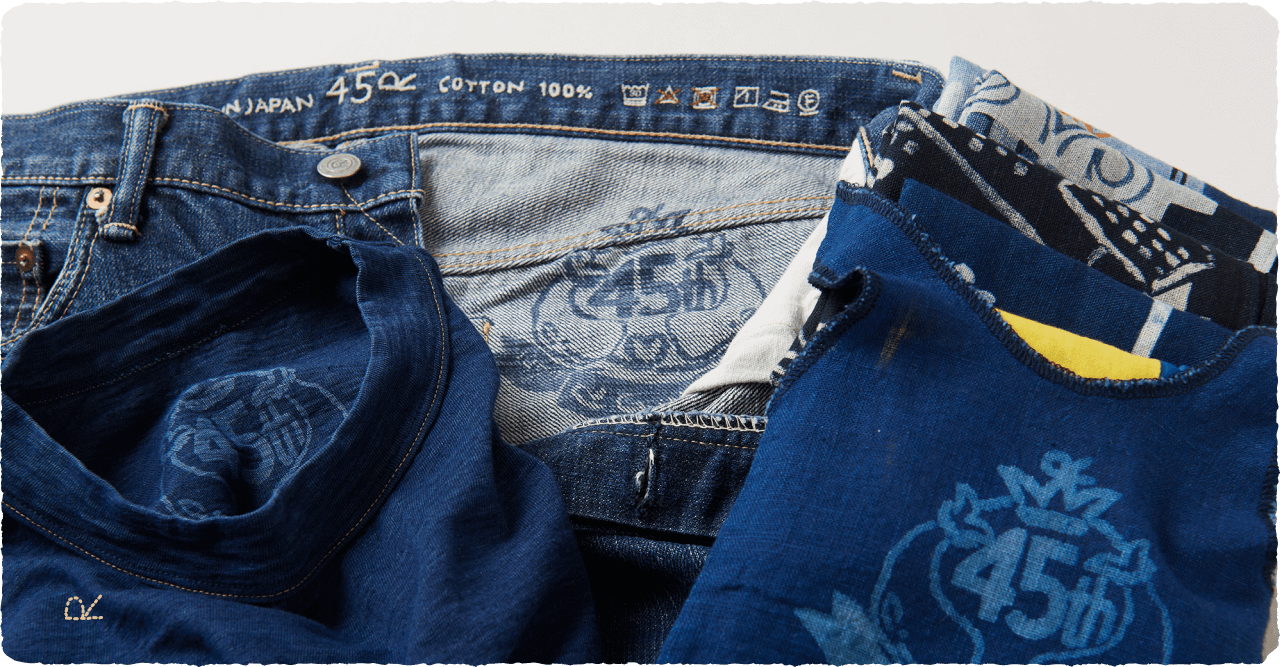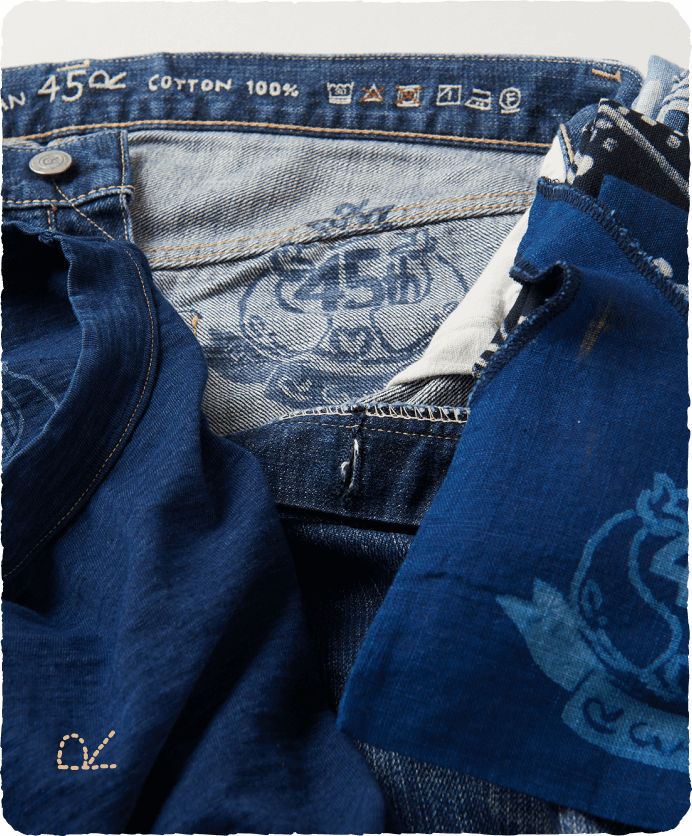 Jeans, T-shirts, and bandanas: Throughout 45R's history, these have been our "cherished things," constantly evolving in materials, shape, and design. Some differences may seem minor, but the little details add up to major differences over the lifetime of a beloved garment. This is the power of 45R's monozukuri. To celebrate our 45th anniversary, we are curating a collection of these pieces featuring all-new recipes, designs, and ideas.
| | |
| --- | --- |
| April 5 , 2022 | To be released in retail stores in Japan |
T-Shirt
45R began its research into original indigo formulations over two decades ago.
To date, we have developed recipes for 33 shades of indigo.
One early recipe we are still fond of is Nando (納戸). Nando is a slightly smoky shade of indigo, evocative of the gloom inside the storage room (nando) of a traditional Japanese house. As the years pass, Nando lightens and reveals hints of green, attaining a depth like the colors of timeworn noragi (Japanese workwear). Our inquiring spirit grew more and more captivated by the profundities of indigo, and we continued creating new shades for new collections. Sumi Nando (墨納戸), Kachin (かちん), Ruri (瑠璃), Gunjo (群青)…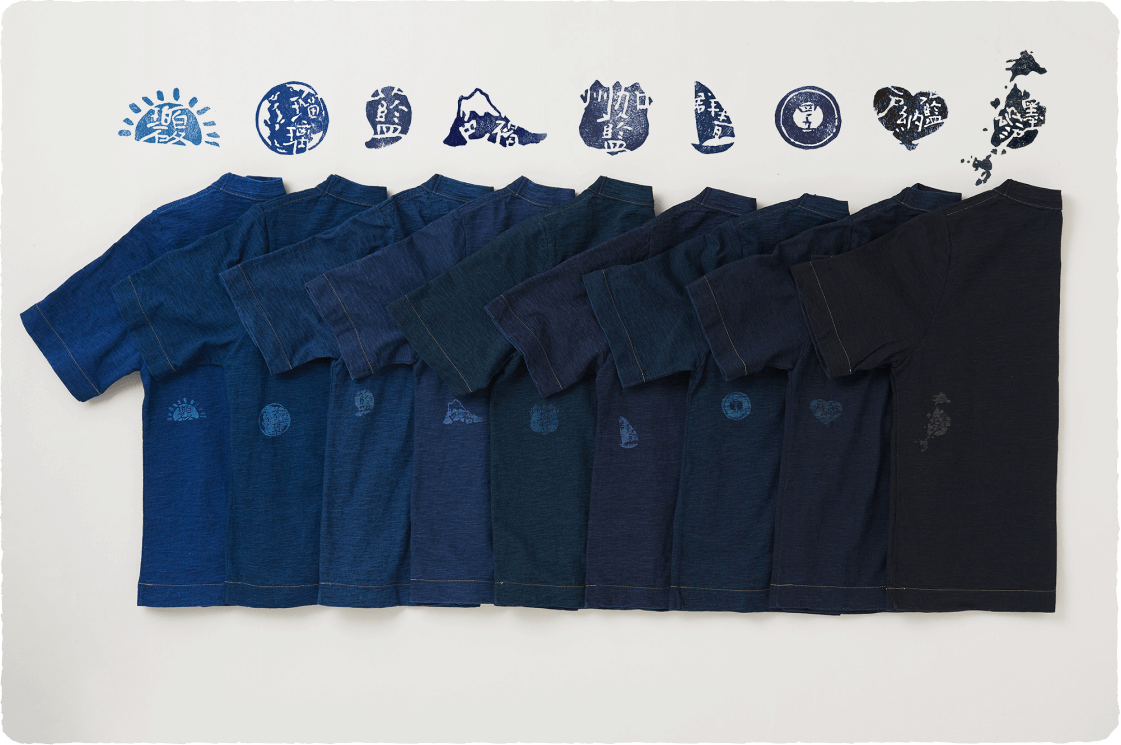 These 45-Year Tale T-shirts are available only in threes. Each triple-pack contains three T-shirts in three shades of indigo carefully selected from our 33 recipes. Three different triple-packs are available, each with three different colors, which makes nine shades in all. Every color, of course, has its story?but there's no need to overthink it.
Simply choose the colors that speak to you.
45-Year Tale Jeans
Jeans are a mirror of their owner's lifestyle. The expression on the "face" of a pair of jeans depends entirely on the wearer.
A hundred people wearing a hundred pairs of jeans create a hundred different faces.
That's exactly why 45R's denim-finishing artisans imagine the wearer's story as they give each product its "face."
Now, to celebrate our 45-Year Tale, those artisans have put their talent and experience to use creating five different kinds of jeans.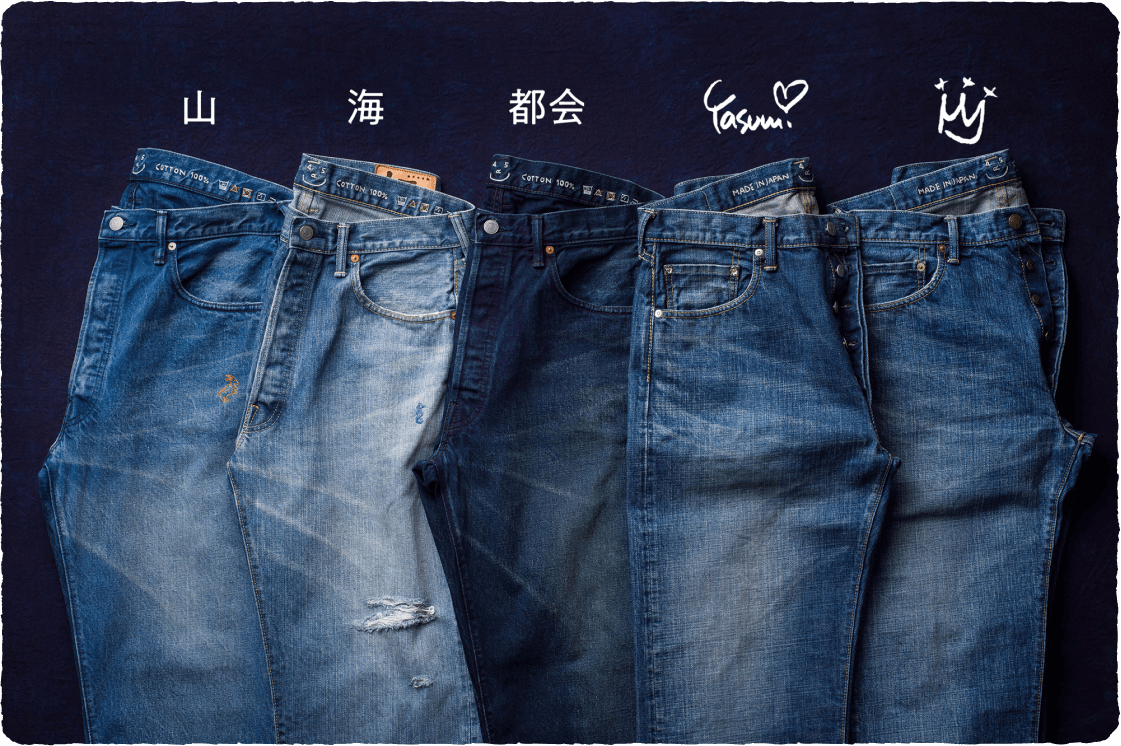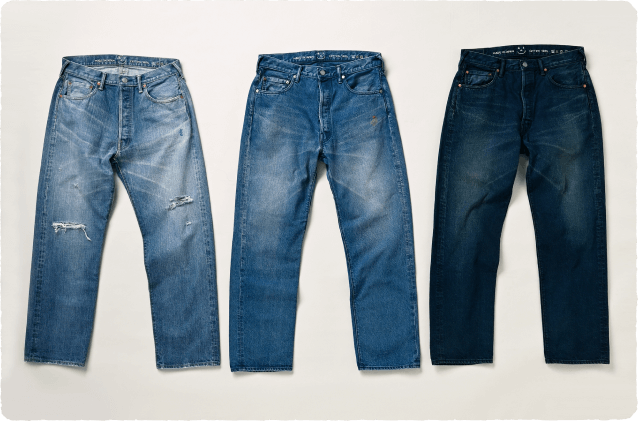 Our Ocean jeans are faded and frayed, as if from blazing sun and salt winds. Perhaps a Hayama yachtsman wore them. These jeans feature a left-facing "Horse" character as their trademark.
The matte tone of our Country jeans, neither too dark nor too light, is the ideal pairing for a tweed jacket. Our Town jeans have a cool and laid-back feel.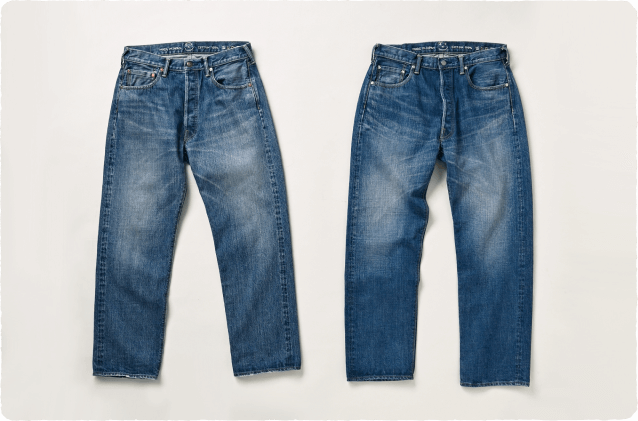 Our Oyakata jeans, named after 45R's helmsman, have an unshakable strength. They're also simple and fresh, and come complete with special horse buttons.
Finally, our designer Yasumi's jeans balance power with elegance. Hidden among the silver rivets is a single rivet in the shape of a flower.
Each of these pieces is made from exactly the same denim, but each has a deep individuality that shows in its face, earned through its own story. And yet, those stories are not yet complete?the rest of the tale is up to you.
45-Year Tale Bandana
These 4.5 bandanas tell the story of the 45 years since 45R's founding, using brand tags from each period as motifs.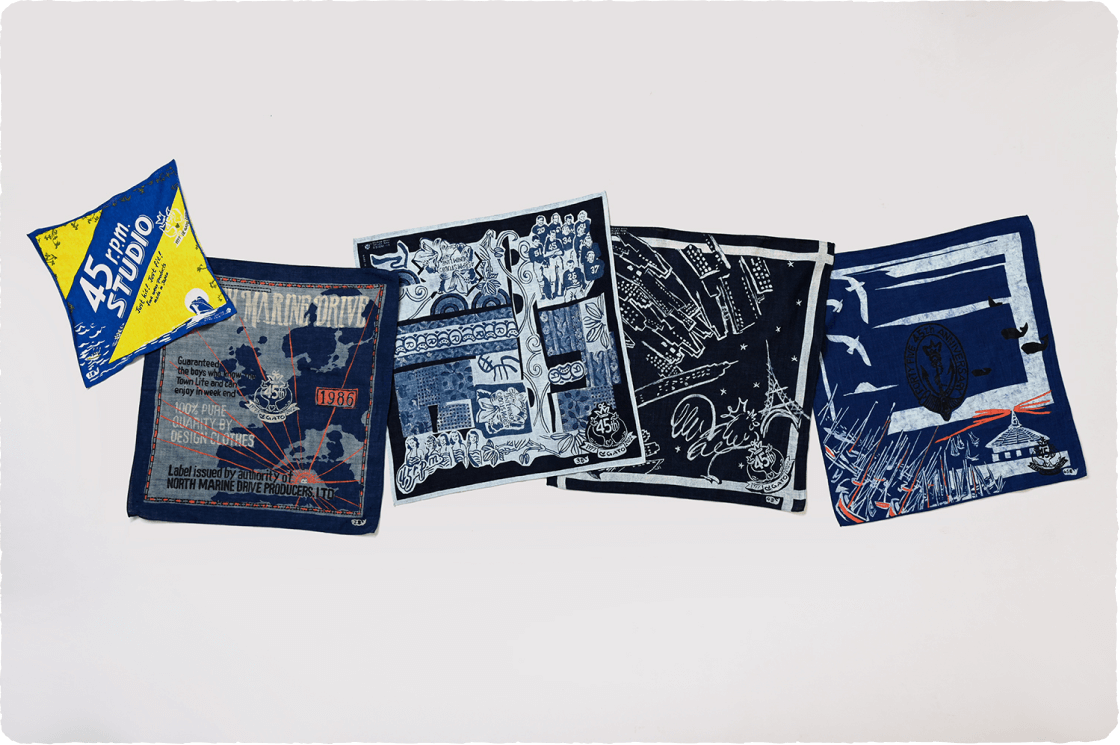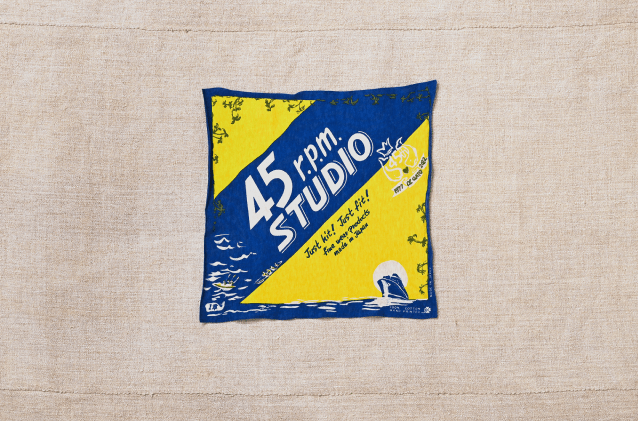 Chapter 1 is "Early Days."
This early brand tag had a graphic logo with US West Coast vibes. We turned it into a bandana with the same feel, adding a ship to represent 45R setting sail for the future.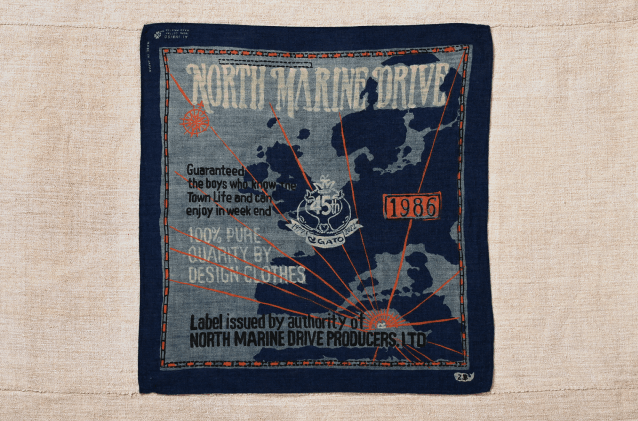 Chapter 2 is "North Marine Drive," a brand we launched in 1986.
This is around the time that menswear became a significant part of our lineup, and we began to chart a new course as a unisex brand. The tag featured a map of Europe.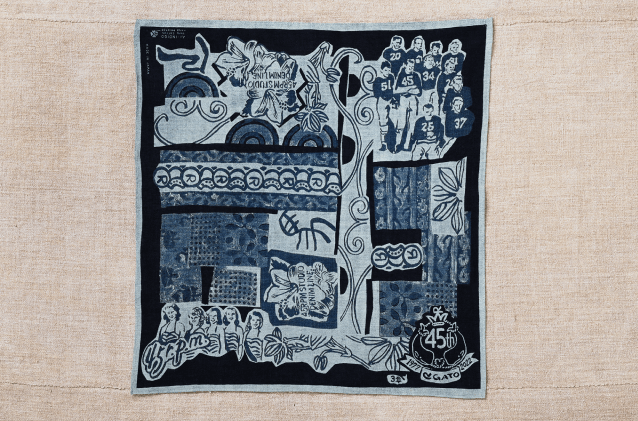 Chapter 3 is "Denim and Badou-R."
This was our first original denim line, with trademark hibiscus product tags. We built our Badou-R store, the "home port" known to some as Indigo House, in Minami-Aoyama.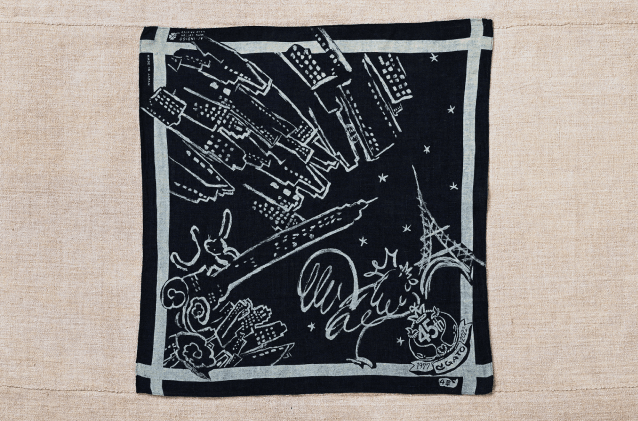 Chapter 4 is "Overseas Expansion."
This chapter commemorates 45R's Age of Discovery, when we set out to share Japanese Ai indigo and denim with the world. We put down roots in New York, Paris, and across Asia, continuing to grow 45R's presence around the world.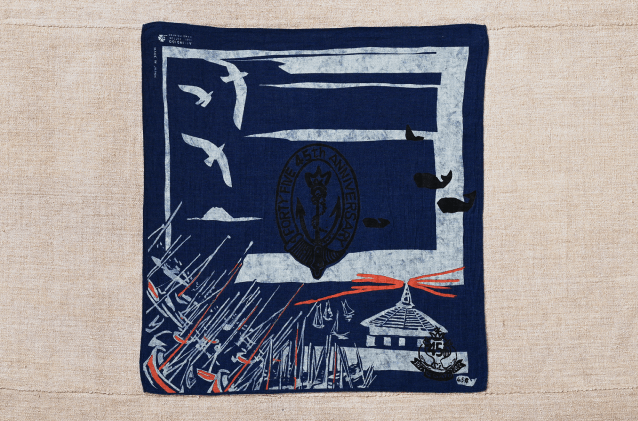 Chapter 4.5 is "A 45-Year Tale of Ocean and City and Sea."
The design features a lighthouse, a harbor, whales, seagulls, Mount Fuji, and Hayama House. Our adventure in search of unknown new adventures starts here.
45-Year Tale Bag
As a gesture of our appreciation, we have prepared a special gift for you. With any purchase of 45-Year Tale Collection: Jeans, T-shirts, Bandanas, you will receive the limited tote bag shown here. Stock is limited so don't miss the opportunity to make one yours.